LVT vs LVP Flooring: What's the Difference?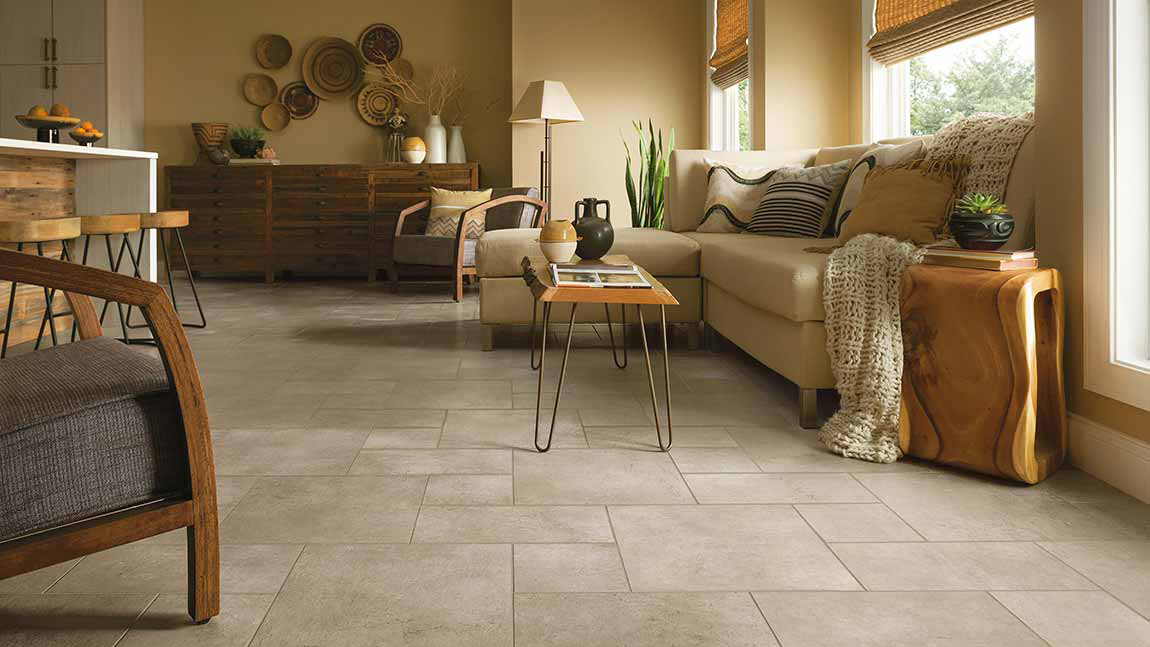 LVT (Luxury Vinyl Tile) and LVP (Luxury Vinyl Plank) are two different types of luxury vinyl flooring. LVT is vinyl flooring designed in a tile shape, whereas LVP is vinyl flooring designed in planks to resemble traditional hardwood floor planks.
Here are some more details on these two wonderful luxury vinyl flooring choices…
What's Luxury Vinyl?
Luxury vinyl is a specific type of vinyl flooring. Old-school vinyl flooring used to be offered in sheet form only, and therefore wasn't able to mimic the realistic natural materials that luxury vinyl floors now can. Modern LVT and LVP floors are now offered in countless patterns and colors, and designed so that they appear to look almost exactly like natural materials such as wood, stone, and tile. Some LVT and LVP flooring options are even textured to appear like these materials as well. Many LVT and LVP floors even have seams for grout, and the planks can come in narrow or wide styles, as can the tiles.
Are LVT and LVP floors waterproof?
Yes! Both LVT and LVP floors constructed from layers of plastic, so they're waterproof, making them an ideal flooring choice for any room in your house, especially kitchens, bathrooms, and basements. LVT and LVP floors are designed to withstand moisture, heavy foot traffic, and plenty of scratches and spills.
What's VCT flooring then?
VCT stands for Vinyl Composite or Vinyl Composition Tile flooring. Though VCT floors are also made with some vinyl in them, unlike LVT floors, they contain less plastic and more natural materials such as limestone. Because of this, VCT floors are more porous than LVT floors, and thus they are not as waterproof and require more maintenance.
What about Engineered Vinyl flooring?
Engineered Vinyl flooring, or Engineered Vinyl Plank (EVP), is a subset of LVPs. EVPs are simply even more durable than many LVP options, as they're built with the strongest high-density fiberboard core, and have a rigid stone-based core. EVPs are often considered the luxury vinyl planks on the market that most closely resemble real hardwood floors, but personal preference will often determine this for you!
Can I install these floors myself?
Yes! A big draw of both LVP and LVT flooring is that these floors can be installed by "floating" the planks or tiles into place over your home's existing subfloor. This makes installing LVP and LVT floors possible for handy-minded DIYers, and it's a huge cost-saving benefit as well.